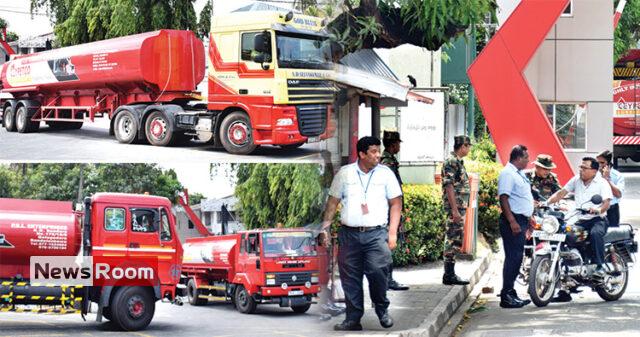 By Rathindra Kuruwita
The government was threatening petroleum workers and forcing them to work against their will, Ceylon Petroleum Corporation (CPC) trade union leaders said, protesting against the deployment of the police and the military in CPC premises.
CPC unions on Tuesday withdrew from issuing fuel in protest against the government's decision to privatise a large portion of the retail fuel sector. The government called in the military to ensure the supply of fuel.
Despite disruptions, fuel supply had returned to normal by yesterday evening, the government claimed.
President of the Public Progressive Workers' Association, Bandula Saman Kumara, said that they had stepped forth to protect the CPC knowing well that their jobs would be on the line.
"We have been sent on compulsory leave and banned from entering our workplace. We will not betray our struggle and Minister Kanchana must understand that the CPC is not his property," he said.
Saman Kumara said the unions were against the sale of national assets and concerned about the jobs of CPC workers.
"The workers have decided to report to duty but they will not work," he said.
CPC General Employees Union President Ashoka Ranwala said it was the government that compelled them to resort to union action.
"The minister didn't even give us a hearing. The government has called in thousands of armed soldiers and they are intimidating the CPC workers. They have gone to the houses of CPC workers and forced them to return to work. However, this will not end well for anyone," he said.
Twenty CPC workers including several union leaders had been sent on compulsory leave for disrupting the distribution of fuel, Minister of Power and Energy, Kanchana Wijesekera said, adding that they would not be allowed to enter any of the CPC premises.
"We have also asked the CPC and law enforcement agencies to take disciplinary and legal action against these individuals. I called in security forces to ensure the distribution of fuel and that they dispatched 458 bowsers of petrol and 393 bowsers of diesel.
Those who have been sent on compulsory leave are B.G.D. Dilan Gamage, Premanath Gamage, Samika, Bandula Saman Kumara, Asoka Ranwala, S.M.C.S. Chinthaka Gunasekara, M.A.S.W. Nishantha, R.A. Ranathunga, S.M.D.J. Wijegunaratne, P.N.Perera, U.E.G. Sanjeewa Priyadarshana, H.U.K. Serasinghe, D.S. Dheeraka Balasooriya, G.H. Niluka, S.D. Jayantha Paregama, S.D.S. Sarda Dissanayake, U.D. Palitha, S.H.R. Virajith, Damith Priyantha and R.A.C.S. Ranaweera.