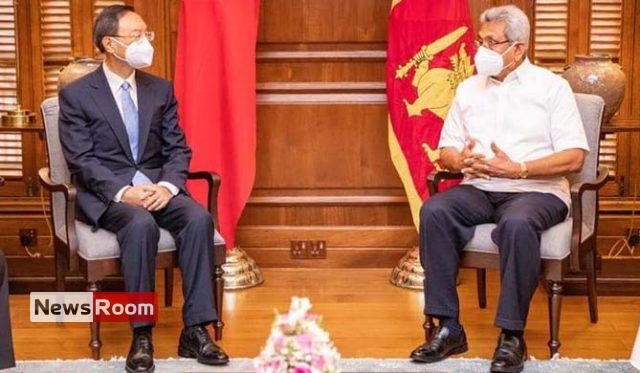 Sri Lanka will soon sign an agreement to obtain a US$ 500m concessionary loan from China as a visit from the United States Secretary of State Mike Pompeo is expected later this month, two separate reports of the newspaper – 'The Sunday Times' say.
US$ 500m concessionary loan
Quoting a Treasury official, the newspaper reports today (11) that Sri Lanka will shortly sign an agreement to obtain a US$ 500m concessionary loan from China and arrangements were finalized during talks between Prime Minister Mahinda Rajapaksa and the high-level Chinese delegation led by CPC Politburo member – Yang Jiechi.

It notes that although the loan was to be finalized during a visit of Prime minister Rajapaksa to China, he agreement is to be signed in Sri Lanka within the next months in the wake of the visit's delay'
The article further notes :
Treasury officials said that the loan is due to be repaid during a 10-year period with no restriction on usage of the loan. Accordingly, the loan is most likely to be made use for the recovery of the economy which has been affected by the COVID situation as well.
During the visit, the Finance ministry on Friday also signed an agreement with China International Development Agency to receive a grant for Rs. 16.5 billion for livelihood development in the country.
Mike Pompeo to visit SL this month
Meanwhile, a separate report in the newspaper says that the US Secretary of State Mike Pompeo is expected to arrive in Sri Lanka on October 27.
It will be the highest-level US official of cabinet rank to visit the country since one of his predecessors, John Kerry, visited Sri Lanka in 2015.
The news report further notes :
"He is expected to come," said Admiral Prof Jayanath Colombage, Secretary to the Foreign Ministry. Other sources say he is due in two weeks, breaking away from an official visit to New Delhi where he is to accompany his colleague, the US Defence Secretary Mark Esper, for a major military cooperation agreement expected to be signed between the US and India as part of an anti-China Alliance with Japan and Australia.
The stalled negotiations on the US$ 480 million Millennium Challenge Corporation (MCC) grant to Sri Lanka are likely to be on the agenda for discussions with President Gotabaya Rajapaksa and Prime Minister Mahinda Rajapaksa during the visit. It was not yet clear if the proposed SOFA (Status of Forces Agreement) and the existing ACSA (Acquisition and Cross-Servicing Agreement) would also be on the agenda.